Five For Friday +1…5/6/11
1.  Medical Stuff:  Pretty quiet week on the medical front…
2 days of PT.  One that went really well, and one that was more of a psych-therapy appointment.  My PT and I discussed how breakdowns every once in a while are healthy and go with the territory.  Everyday I have been trying to focus on my Dr. Rosen homework:  "Making today right, because that is all I can control."  Some days are easier than others.

2 days of home rehab.  

Felt pretty sick Monday and Tuesday.  Today is the strongest I have felt all week.  I am thankful for that.
2.  Sunday, Brad and I went to our niece, Casey's soccer game in Jackson.  Casey's team won, 3-0.  It was nice to watch her in action, and to also spend time with my Mom-in-law, Dad-in-law, sister-in-law, (not sure why this keeps changing color) Stephanie, brother-in-law, Chris, and my niece, Kendall.  She is getting so big~Gotta love those curls!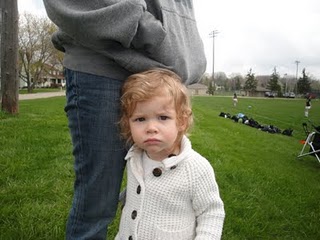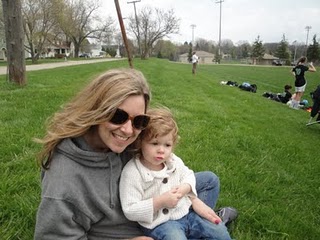 3.  After the soccer game, we headed to Katy Rose's 3rd birthday.  She got some awesome loot and I do have to say, that Katy picked out the BEST ice cream cake I have ever had.  Her "Little People" Airplane won the prize for her favorite present.  Nice work D!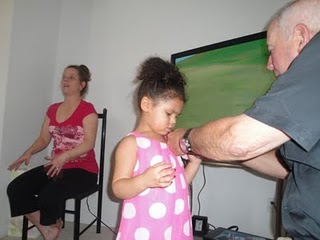 Papa Doug pretending to cut Katy's pretty birthday dress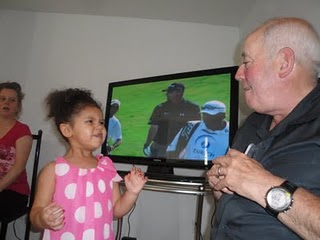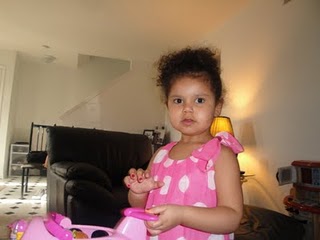 4.  I voted Tuesday.  Let's just say I was not thrilled with the results.
5.  I met one of my heroes, Lisa Gigliotti on Tuesday.  I was feeling sick, but I was determined not to let that stop me from finally getting to meet one of my idols in person.  Lisa's life story and books have honestly changed my life.  I thank my lucky stars everyday, that our paths crossed when they did.  Lisa helped me get out of a pretty dark place last October and November when I didn't know what was wrong with me.  She sent me her books, she would call me on the phone and email me, and she seemed to just always know what I needed to hear; whether it was advice, encouragement, or something about never losing faith.  Lisa is the epitome of "Coraggio," and is such a beautiful person, inside and out.  You can read more about Lisa here, from one of my previous posts last November.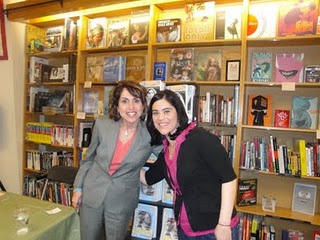 Lisa and I standing so that you can see her books behind us.
+1.  I'll leave you with Shel Silverstein's "Zebra Question" poem from

A Light in the Attic

in honor of Ehlers Danlos Awareness Month.  I promise not to be like this zebra.  I welcome questions about my stripes and would be glad to answer them.
I asked the zebra,
Are you black with white strips?
Or white with black strips?
And the zebra asked me,
Are you good with bad habits?
Or are you bad with good habits?
Are you noisy with quiet times?
Or are you quiet with noisy times?
Are you happy with sad days?
Or are you sad with happy days?
Are you neat with some sloppy ways?
Or are you sloppy with some neat ways?
And on and on and on and on
And on and on he went.
I'll never ask a zebra
About stripes
Again.
Tags: Dr. Rosen, Family, Inspiration, Lisa Gigliotti, Physical Therapy, Zebra