1. Medical Stuff:
1 day of PT.
2 Days of Home Rehab.
Zero doctors. Two weeks in a row. Whoa.
I ended up taking Wednesday off. This was a down to the minute decision but after paying attention to my body's "red flags" (more blood pooling, lots of fatigue, some throwing up, wacky heart rates and blood pressure) I decided it was best to give myself a rest and recovery day. I'm always a work in progress when it comes to listening to my body. Trying to get better…
2. I spent last weekend in Cincinnati at my one of my best friends, Theresa's new house. My friend Angie and I drove down for a Montessori conference and came home on Sunday. I also got to have dinner with my Aunt Mada and Uncle Brock while we were in Cinci. It was a super quick trip filled with lots of learning, laughs, and love!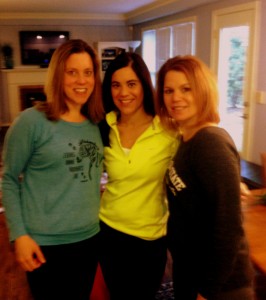 3. The benefit concert nightmares have started. It never fails. It happens every year…
Everything will come together, right? People will come, right? We will meet our goals, right? I will remember to get dressed, right?
Trying to breathe and keep things in perspective but some days are much harder than others.
It's all about the cause. That is what I must keep in mind at all times. That's what makes the stress and hours and hours of work worth it.
(Sidenote: Sorry if you have reached out to me lately and I have not gotten back to you yet. I feel like between being gone last weekend, teaching, trying to stay healthy, and working on the benefit with every spare moment I have, I am having trouble keeping up. So thank you for being patient with me!)
4. I am loving Jimmy Fallon on the Tonight Show. Since I go to bed at pretty much the same time as my kindergarteners, I DVR it each night and watch it the next day. I admit it. I officially have a giant, Jimmy Fallon crush. Brad's okay with it.
5. Did I hear you say you need tickets for April 12? You would rather make a donation? Let me help you with a few quick and easy links 🙂
Tags: 2014 Benefit Concert, Family, Invisible Illness, Montessori, Struggles, Teaching, Theresa, TV