1. Medical Stuff:
1 Day of PT. That session was no joke. I was feeling well so I asked to be pushed. After the elliptical, we worked my neck, upper back, and core. I was so sore the next day. (The good kind of "sore").
2 Days of Home Rehab. Treadmill, balance work, light weights, abs, scap and glute fires.
I saw Larry for my April appointment. He spent a lot of time doing cranial OMM, and putting my ribs back into place. We also talked about using spray and stretch at therapy to help my neck.
I saw my shrink on Thursday for an hour. After 15 years, I love that I still have him to talk to, and clear my head with. Like really, really love it. It's about maintaining clarity and perspective.
2. I had a really exciting meeting on Wednesday with our zebra lawyer, Mike, and my new lawyer friend, Mike. We went over a draft to send to the Senate majority leader in hopes that they will declare the last week of May, "Invisible Illness Awareness Week" in Michigan. I meet this Thursday with the Senate Majority leader to talk about the importance of awareness. No matter what, I am thankful for this opportunity. Fingers crossed…
3. Check out the shirts a friend surprised Angie and me with! They encompass two of my favorite things: MSU and zebra stripes! : )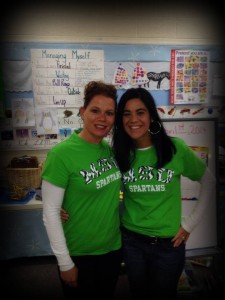 4. Speaking of shirts, I always get a little teary when I see someone wearing a Life as a Zebra shirt; no matter who it is or where it is. So when Chris Trapper sent me this picture on Monday, as he was cheering on runners at the Boston Marathon, it honestly made my day.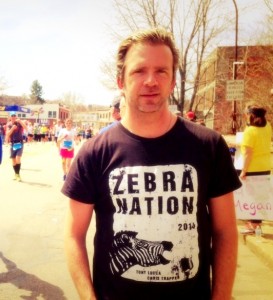 5. Summer is coming which usually translates into concerts…I mapped out the shows the other night I am going to, or hope to see this summer…Avett Brothers, Rob Thomas, Dave Matthews and Tim Reynolds, Steppin In It, Counting Crows, Ray Lamontagne, Josh Ritter, Jimmy Buffett…Just typing that list makes me really, really happy.
Tags: Awareness, Chris Trapper, Concerts, Dr. Rosen, Friends, Invisible Illness, Life as a Zebra Foundation, Michigan State, Music, Physical Therapy, Senate, Summer, Surprises, zebras