Happy Birthday, America!
1. Medical Stuff:
One day of PT. First time back on the elliptical after being out of the boot. Also, I worked a lot on scap fire exercises.  My traps love to fire instead of my scaps which gives me a lot of the neck pain (and therefore, headaches) I experience, so it's a matter of me consistently retraining my scap muscles to do the work.
2 Days of Home Rehab.
1 Shrink Appointment. Striving for balance in all areas of life.
2. Speaking of balance…this was a week I failed at it. Plain and simple. I worked and worked…and overdid it to the point that I became sick.  It took some tough love from my family, to point out that it's not worth it when my health is jeopardized. They are absolutely right. I have not fought to get to where I am with my health, to regress. Soooo, this upcoming week, things change. I am setting up a work schedule for myself and I am sticking to it. I am also going to work harder on delegating. This type A Zebra says, wish me luck : )
3. I am sure many of you know this one, but here is a quote that I was compelled to print out and place next to my work this week.  Love.
"It is not the critic who counts; not the man who points out how the strong man stumbles, or where the doer of deeds could have done them better. The credit belongs to the man who is actually in the arena, whose face is marred by dust and sweat and blood; who strives valiantly; who errs, who comes short again and again, because there is no effort without error and shortcoming; but who does actually strive to do the deeds; who knows great enthusiasms, the great devotions; who spends himself in a worthy cause; who at the best knows in the end the triumph of high achievement, and who at the worst, if he fails, at least fails while daring greatly, so that his place shall never be with those cold and timid souls who neither know victory nor defeat." ~Roosevelt
4. April 11, 2015! Lansing, MI! Save the Date!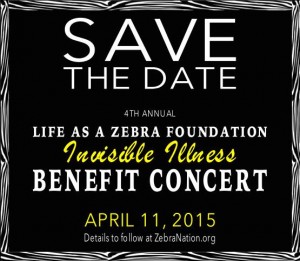 5. Life as a Zebra Foundation received some very exciting news this week. I am not allowed to "announce," it yet, but I should be able to shout it from the rooftops next week. Stay tuned!
Have a beautiful weekend, everyone! I am off to spend a day of relaxation on the water with friends. Can't wait!
Katie xx
Tags: Balance, Benefit Concert 2015, Changes, Dr. Rosen, Life as a Zebra Foundation, Physical Therapy, Quotes, Struggles