1. Medical Stuff:
3 Days of Home Rehab.
I had my July appointment with Larry. Lots of cranial, neck, and upper back OMM.
Tuesday I went to U of M for my yearly Gastroparesis check up. I was given an EKG because I am on Domperidone, and everything looked good. My doc wants me to have the Hydrogen Breath Test (because of my flares) which is to check to make sure I have the good kind of bacteria in my stomach. I am also to return in six months for a check up and a meeting with their nutritionist.
2. Thursday, Brad and I traveled to Spring Lake for the weekend. We were able to catch a Tony Lucca show Thursday night. It was fun to reunite with Tony and his family.
3. Friday morning, we woke up and did a beautiful hike with our nieces and my sister-in-law.
4. We have been busy getting ready for DC. Each time I turn around, we have someone else who wants to meet, which is encouraging. It's going to be a busy couple of days…hopefully a couple of days with productive conversation, open mindedness, brainstorming, and a lot of awareness and education. (I'm not gonna lie. I'm nervous! : ) )
5. As many of you know, my cousin, Caroline passed away last week due to complications from EDS. Caroline and I emailed quite a bit, and she traveled to Michigan for our second benefit a couple of years ago. Caroline was such a beautiful, sweet soul and will be greatly missed. Life certainly does not make sense sometimes. I have honestly taken it pretty hard, and it has been difficult for me to process, so thank you all for the outpouring of love and support.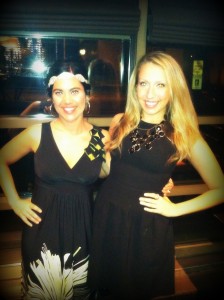 Tags: Awareness, Caroline, Ehlers-Danlos, Family, Gastroparesis, GI, Music, Osteopathic Manipulative Medicine (OMM), Spring Lake, Tony Lucca, Travel, Washington DC